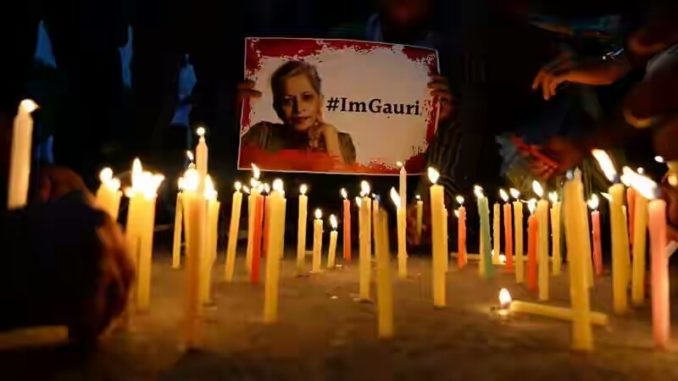 Journalists in dozens of cities across India have protested against recent attacks on the media on the 148th anniversary of Mahatma Gandhi, leader of the country's independence movement.
"Journalists have protested in almost every state across India today. This is unprecedented and historic," tweeted senior journalist Rajdeep Sardesai on Monday, who was among the more than 100 journalists gathered at the Press Club of India in New Delhi.
Between 100 to 150 journalists in New Delhi formed human chains to send a message of peace.
"Gandhi Jayanti is a day of peace. We took out a peaceful march from the Press Club of India to the Women's Press Corps," Munne Bharti, a journalist with NDTV, told Al Jazeera.
"Journalists are being attacked and killed, and the perpetrators are not being arrested. We demand that government act against the killers.
"There are fears that journalists critical of the government might be targeted in the future. The government should take steps for the safety of journalists."
The recent killings of senior journalist Gauri Lankesh – a vocal critic of the government – and young reporter Shantanu Bhowmik has riled the media fraternity in India.
Journalists critical of Prime Minister Narendra Modi's administration have been targeted by online supporters of the government, many of them followed by Modi himself.
Ravish Kumar, one of India's finest broadcast journalists, wrote a public letter last week to the Indian prime minister, seeking Modi's intervention to stop online harassment and threats against journalists.
"The sad part is that you happen to follow some of these people on Twitter who use grotesque language and indiscriminately dole out threats. And you have continued to subscribe to their accounts even after their malevolence was highlighted in public and sparked controversies. That such people should be able to claim or have any affiliation to you does not behoove either you or the dignity of your office," he wrote.
His fears are not without basis. India is the third most dangerous nation for journalists after Iraq and Syria, according to the Committee to Protect Journalists.
In Reporters Without Borders' press freedom index, India's ranking slipped by three places to 136 out of 180 countries – behind Myanmar and Zimbabwe.
With the rise of Hindu nationalists, self-censorship is growing in the mainstream media in India, the report by the Paris-based media watchdog said.
A petition signed by journalists is expected to be submitted to the home ministry on October 5, Gautam Lahiri, the president of the Press Council of India, told thewire.in website.