Coco is once again reminding us that she's a goddess.

This time around, the 38-year-old mom shared a photo on Instagram of herself performing an elevated "goddess pose" with the help of her sister, Kristy Austin, the siblings in matching blue bathing suits. Talk about a multi-tasking mommy!

Kristy, a professional yoga instructor, showed off her core strength by lifting Coco—and Coco's 2-year-old daughter Chanel—in the air using only her legs, leaving sis to balance accordingly.

"u should work with her someday if u ever get a chance," Coco sang Kristy's praises on Instagram.

But this is hardly the first time that Coco has posted photos of her impressive flexibility or her knack for matching yoga outfits! Behold her most impressive maneuvers:
Instagram
POOL TIME
In matching orange swimsuits Coco and Chanel stretch by the pool. Coco says she instructed her daughter to "show [her] a yoga pose," and she stretched her leg out all on her own. Children really do absorb everything!
Instagram
CHILD'S PLAY
Chanel sits back and watches in amazement as her mom lifts aunt Kristy into the air for an in-flight child's pose.
Instagram
YOGA KISS
A little love triangle in this pose as Coco is lifted into the air and planking on her yoga partner's legs as she gives her daughter a sweet kiss.
Instagram
IT'S A MATCH!
Coco takes Chanel to a Mommy and Me class in matching purple workout outfits, complete with headbands and bows.
Instagram
BABY YOGI
Like mother like daughter! Chanel shows her fantastic yoga form as she and her mom stretch out their legs in matching blue workout clothes.
Instagram
NAMASTE
Chanel isn't the only person Coco likes to coordinate her yoga outfits with! Coco and her sister stretch together as she's lifted into the air, both wearing the same leggings and pink tops.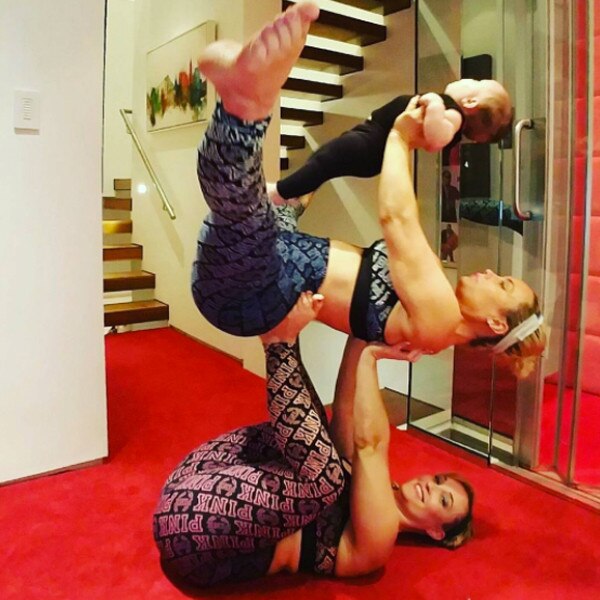 Instagram
RED CARPET YOGA
An intense tower of yoga poses doesn't seem all that relaxing but it's Cocos's version of "late night goofing around."
Instagram
GIVE ME AN E!
You do not want to be the friend on the bottom! All three women seem poised and relaxed as they execute a pose that looks like it may be harder to get down from than it was to get up.
Instagram
YOGA WITH A VIEW
The sisters are the mirror image of one another on a balcony with quite an impressive backdrop.
Instagram
ALL DOLLED UP!
Coco can get into formation anytime and anywhere. Even in a dress and heels!
Instagram
THROWBACK
Coco does a yoga pose in a LBD and sparkly heels on the set of her and Ice T's short-lived talk show.
Instagram
BABY ON BOARD
On live TV and while pregnant, Coco shows that there isn't a pose she can't do!
Coco practices AcroYoga, a combination of acrobatics and yoga that encourages those doing it to develop a sense of trust with their partner, which would explain why her sister is her favorite person to practice with. It also requires a little bit of bravery as part of the practice is rooted in the individual's ability to "take flight" and be lifted into the air.
If she keeps practicing with mom, Chanel will be way past child's pose in no time!