By Aruoma Stanley Osasumwen
Abia is a state in the south eastern part of Nigeria. The capital is Umuahia, and the major commercial city is Aba, which was formerly a British colonial government outpost in the region, and is also one of the most populated areas in Nigeria.
Abia state was created in 1991 from part of Imo State. It is one of the constituent states of the Niger Delta region. It is also the 5th most industrialized state in the country, and has the 4th highest index of human development in the country, with numerous economic activities and fast growing populations as recorded by the United nations early 2018.
The state also houses one of the biggest cattle markets in Nigeria.
The state occupies about 6,320 square kilometres, and is bounded on the north and northeast by the states of Anambra, Enugu, and Ebonyi.
To the west of Abia is Imo State, to the east and southeast are Cross River State and Akwa Ibom State respectively and to the south is Rivers State.
The southern part of the State lies within the riverine part of Nigeria, it is a low-lying tropical rainforest with some oil-palm brush, the southern portion gets heavy rainfall of about 2,400 millimetres (94 in) per year and is especially intense between the months of April through October. The rest of the State is moderately high plain and wooded savanna.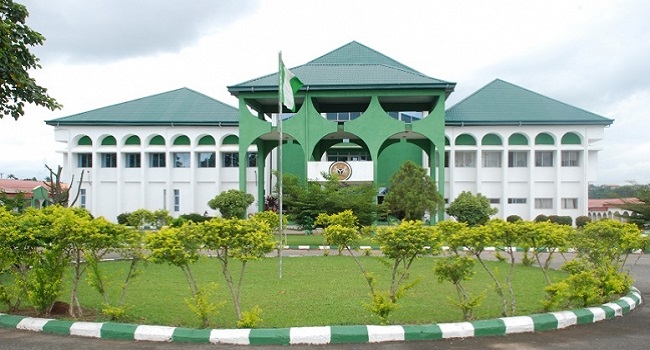 The most important rivers in Abia State are the Imo and Aba Rivers which flow into the Atlantic Ocean through Akwa Ibom State.
Crude oil and gas production is a prominent activity, as it contributes over 39% of the State's GDP.
However, the indigenous oil companies- through the Marginal Fields Programme (MFP)- have not found it easy to attract the requisite funding and infrastructural capacity to explore some of the marginal oil fields which are about 50 in the State.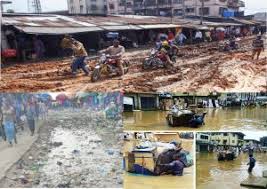 The manufacturing sector only accounts for 2% of the GDP.
The industrial centre of the state is in Aba, with textile manufacturing, pharmaceuticals, soap, plastics, cement, footwear, and cosmetics.
In addition to the above, Abia State has a 9,000 capacity multipurpose International Conference Centre in Umuahia. This edifice of international standard was built by Governor T.A Orji to enhance tourism as well as boost the state economy through hosting of major International and Local events.
Representing 27% of the GDP, agriculture- which employs 70% of the state workforce- is the second economic sector of Abia.
With its adequate seasonal rainfall, Abia has much arable land that produces yams, maize, potatoes, rice, cashews, plantains, taro, and cassava.Oil palm is the most important cash crop.
There are over 100 oil wells and 3 installed flow stations in Abia State. There is also an associated gas plant, Abia/NNPC gas plant.
As of 2012, boundary Commission said it returned 42 oil wells from neighbouring Rivers State to Abia. This would have meant Abia being fourth largest oil producing state in the country.
Oil giant, Shell, holds most of the licenses for the wells in the State and has concentrated on the estimated 50 wells that are considered high-yield.
However, the State has complained of poor funding from its oil revenue federal allocation.
There are four universities in the state: the federal-owned Michael Okpara University of Agriculture at Umudike, the state-owned Abia State University in Uturu, and the Gregory University Uturu and Rhema University in Aba, both privately owned.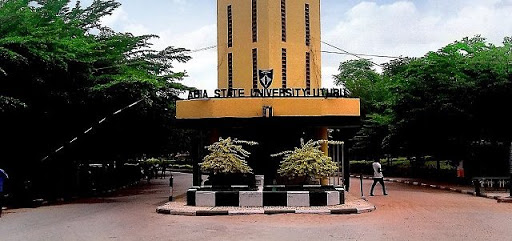 There are two tertiary hospitals, the Federal Medical Center in Umuahia and the Abia State University Teaching Hospital in Aba, which serve as referral hospitals in the State. The Abia State Polytechnic is also in the city of Aba.
There are two major power plants in Abia, The Alaoji Power plant and the Geometric Power plant.
Abia is one of the most peaceful states in Nigeria and has been a "haven" for foreign investors.
The state's population has grown rapidly since its creation.
The nearest airport to Abia is Sam Mbakwe Cargo Airport (Owerri Airport), an hour drive to Umuahia and Aba; and Port Harcourt International Airport, 2 hours.
Akwa Ibom Airport (Akwa Ibom State) can also serve would-be visitors. The distance between Uyo (Akwa Ibom) and Umuahia (Abia) is: 73.28 kilometres (45.53 mi).
The rail transport is also another means of travel, very effective.
Aba is connected to Port Harcourt by rail. The coastal parts of the State are equally accessible with boats and canoes.
Abia State is one of the thirty-six (36) States in seventeen (17) Local government areas (LGAs) that constitute the Federal Republic of Nigeria.
Abia was carved out of the former Imo State in 1991.
The name "Abia" is an abbreviation of four of Abia state's densely populated regions Aba, Bende, Isuikwuato, and Afikpo.
Abia is mainly peopled by the Igbo ethnic group. The Igbo people, who are one of the indigenous peoples of Southeastern part of Nigeria, make up 95% of the population. Their traditional language, Igbo is in widespread use.
English is also widely spoken, and serves as the official language in governance and business.
Abia's over 2.4 million people are mainly Christians.
Languages of Abia State listed by LGA:
LGA Languages
Arochukwi: Igbo; Ibibio; Ibuoro; Nkari
Ini: Itu Mbon Uzo
Obi Ngwa : Igbo, Anaang
Ugwunagbo: Igbo; Anaang
Ukwa East: Igbo; Anaang; Ibibio
The State Government is led by a democratically-elected executive Governor who works closely with members of the state's House of Assembly.
The capital city is Umuahia. There are 17 local government areas (LGAs).
In 1999, Nigeria became a democracy and Orji Uzor Kalu contested on the platform of the People's Democratic Party (PDP) and won the Governorship election in Abia State.
Consequently, he was sworn-in on 29 May 1999.
In 2003, when it was time for fresh elections, Kalu re-contested on the platform of the PDP and got a second mandate to govern (the Constitution of Nigeria limits Governors to two terms in office).
Theodore Orji (PPA) defeated Onyema Ugochukwu (PDP) in the 2007 general elections to become Abia's next Governor.
In 2011, Theodore Orji decamped from PPA to the PDP and was re-elected for another four-year tenure.
On 11 April 2015, Okezie Ikpeazu was voted as the ninth Governor of Abia State under the platform of the People's Democratic Party.
He was also declared the winner of the 2019 gubernatorial election after polling total number of 261,127 votes to defeat Uche Ogah of the All Progressives Congress, APC, and Alex Otti of the All Progressives Grand Alliance, APGA and sworn in as Governor for a second term on 29 May 2019.
Abia State consists of seventeen (17) Local Government Areas. They are:
Aba North
Aba South
Arochukwu
Bende
Ikwuano
Isiala Ngwa North
Isiala Ngwa South
Isuikwuato
Obi Ngwa
Ohafia
Osisioma Ngwa
Ugwunagbo
Ukwa East
Ukwa West
Umuahia North
Umuahia South
Umu Nneochi
Some Notable people in Abia includes;
Uma Ukpai – Notable Evangelist
Okezie Ikpeazu – Abia State Governor
Arunma Oteh – Former World Bank Vice President and Treasurer
Ebitu Ukiwe – Former Military Vice President; Former Governor of Niger and Lagos States.
Ndubuisi Kanu – Former Governor of Lagos State and old Imo State
Azubuike Ihejirika – Lt. General and Former Chief of Army Staff
Chinyere Almona – Business Executive
Jaja Wachuku – First Minister of Foreign Affairs in Nigeria
Enyinnaya Abaribe – Senator and former Deputy Governor
Orji Uzor Kalu – Chairman, SLOK Group; Former State Governor and one time Founder of Progressive People's Alliance (PPA); Senator of the Federal Republic of Nigeria
Chinyere Kalu – Nigeria's first female pilot
Basketmouth – Notable Comedian
Chelsea Eze – Award winning Nollywood actress
Nwankwo Kanu – Two time African Footballer of the year and Arsenal FC legend
Uche Okechukwu – Former Nigerian Team Footballer
Okechukwu Enelamah – former Minister for Trade and Investment (2015–2019)
John Godson – Polish lawmaker and philanthropist
Adaobi Tricia Nwaubani – novelist and essayist
OC Ukeje – Lagos-based Multiple Award Winning Nollywood actor
Michael Okpara – premier of Nigeria's Eastern Region from 1959 to 1966
Nnamdi Ezeigbo – founder/CEO SLOT Systems company
Johnson Aguiyi-Ironsi – Nigeria's Military Officer and former Head of State
Uzodinma Iweala – US-based medical doctor and author of the book Beasts of No Nation
Paul Agbai Ogwuma – Former Governor of Nigeria's Central Bank
Kalu Idika Kalu – Former Finance Minister and Politician
Theodore Orji – Former State Governor and a serving Senator of the Federal Republic of Nigeria
Nnamdi Kanu – founder of the Indigenous People of Biafra (IPOB), a separatist group
Samuel Achilefu – Notable Inventor
Chinwe Chibuike – Nigerian philanthropist
Samuel Chukwueze – Nigeria National Team football player
Chinedu Ikedieze – Award winning Nollywood actor
Mazi Alvan Ikoku, OBE educationist (1900–1971)
Eni Njoku – Pioneer Vice Chancellor, University of Lagos and first black Vice Chancellor, University of Nigeria Nsukka
Anya Oko Anya, Technocrat and Academic
Uche Jombo, Award winning Nollywood actress
Ruggedman, Afro-Rap artiste
Mr Raw – Igbo Rap Music Pioneer
J. Martins, Afro-pop artiste
Alexx Ekubo, Nollywood actor and Top Model
IK Ogbonna, Nollywood Actor and Top Model
Joel Kachi Benson, documentary film maker
Mao Ohuabunwa, Industrialist and Politician
Ike Nwachukwu, military officer, former governor of old Imo state, diplomat and former senator.
Please Share, Like Our Facebook & Page Follow Us On Instagram