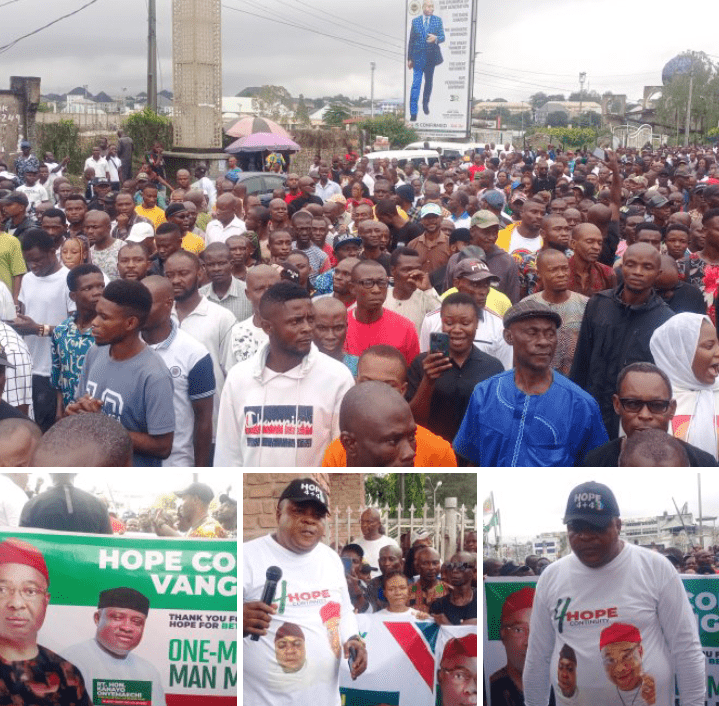 A conglomerate of Hope Community Vanguard has converged in Owerri, the capital city of Imo State Nigeria to show absolute solidarity to the Governor, His Excellency Hope Uzodinma.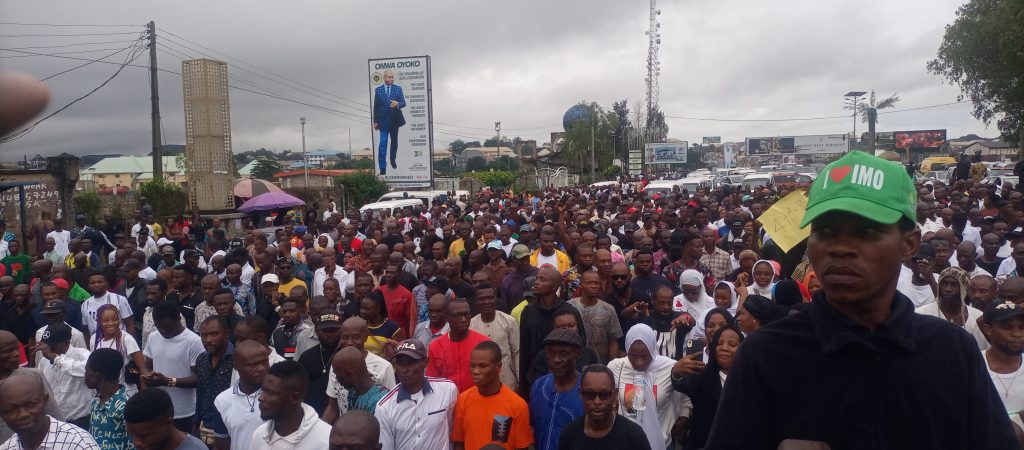 Hope community Vanguard is a grassroot security outfit saddled with the responsibility of saving lives and security across the twenty seven Local Government Areas of Imo state Nigeria.
The State coordinator and Director General DG of Hope Community Vanguard, Hon. Pastor Frank Onwumere showcased a surprising responsibility and capacity to have mobilized such a mammoth crowd in support of Governor Uzodinma's re-election bid. The spread of this group runs in million across the lengths and breathes of the twenty seven LGAs in Imo state.
The crowd was a surprise to the state and the opposition at large on the massive support the Frank Onwumere's led Vanguard has shown for Governor Uzodinma's re-election bid. It was a simple test of confirmation of his notable capacity and grassroots mobilization in Imo.
Frank Onwumere's Mobilisation was second to none as witnessed by all and sundry I'm the state. His community Vanguard group cuts across the 305 wards of the twenty seven Local Government Areas of Imo state.
The twenty seven Local Government Area coordinators, tactical media team and the management heads, Chief of Staff Smith Amadikwa and Owerri Zonal commander, Hon Igirigi Ohamadike Anthony Ogbonna had earlier promised the governor of return ticket through the ballots on the November Guber Election.
The team has also expressed happiness on the massive turn out of membership and other support groups in solidarity to Governor Hope Uzodinma.
While speaking, Special Adviser to Governor Hope Uzodinma on Rubber Estate and Recovery, Hon Madoka Anthony Ordu applauded Hope Uzodinma vanguard for turning out en masse to show support for his second term bid.
While thanking DG Onwumere for such a strong capacity he has established for possible confirmation before the people, SA Madoka Ordu has promised to support their programs targetted at promoting security and Governor Uzodinma's second term bid.
Special Adviser on special duties, Nze Chinasa Nwaneri was happy with the turn out of membership who happily came to recognize the powers of the Governor and established such an intimidating crowd.
Hon Frank Onwumere's co-ordination will be re- vibrating in the hearts and minds of all Imolites by the capacity he showed in the mobilization and management of the such massive community crowds.
Meanwhile, Frank Onwumere has congratulated the LGA commanders for being obedient to his call to mobilize such a tremendous crowd in support of the Governor. He also assured the community Vanguard of unflinching trust and quality representation.
The Governor in his reaction, was happy with the people and applauded Hope community Vanguard for appreciating and supporting his re-election. He received an excellent performance award from the group with cheers and administration.
Recall that the Governorship election is slated for November 11 when Imo electorates are expected to turn out in their numbers to vote their choices. The group is advocating for a return of Uzodinma's second term to continue his good works.
Hope Community Vanguard is trending with this recent development of intimidating mobilization of support given to the Governor of Imo state and also, the Guber candidate of All Progressives Congress APC party for the upcoming November 2023 Election.
DG Frank Onwumere has assured the community Vanguard of his resolve to move this group forward and advised all members to vote en-masse, Uzodinma and APC at respective polling booths across the state.
The outing was witnessed with creme de creme of personalities and leaders across board. All LGA commanders, 2ics, and other affiliate groups were in attendance.
The major aim of Hope Community Vanguard is to align with the security agencies, DSS, Police and vigilant groups to curb crime in Imo state. The state coordinator and DG Onwumere with his team presented a magnifying award to His Excellency Governor Hope Uzodinma.
However, the political oppositions of APC in the state are shocked and trembled by the tremendous mobilisation of Hope Community Vanguard by Pastor Frank Onwumere and his combatant commanders in support of Uzodinma's second term.
The Mobilisation of Hope Community Vanguard by Frank Onwumere truly sparked the state and charged the group to do more as reported by 9News Nigeria.
-Princely Onyenwe reporting
9News Nigeria (Owerri) For inquiries on this news contact 9News Nigeria Imo State @08036856526