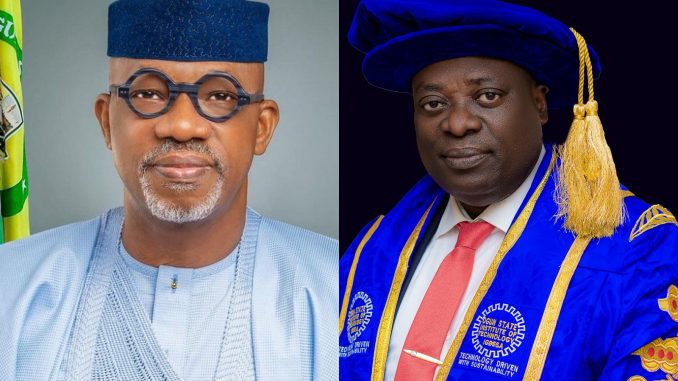 In a heartwarming display of solidarity, the staff of Ogun State Institute of Technology, Igbesa receives 10,000 naira each from the Executive Governor of Ogun State Governor, Prince Dr Dapo Abiodun CON. as first batch of the palliative.
The staff of the institution were excited after receiving such payment from the Governor in the new era of the Rector, Dr. Abiodun Babatunde Oluseye.
Under the dynamic leadership of Rector Dr. Abiodun Babatunde Oluseye, the staff expressed their excitement and gratitude for this unexpected financial assistance. Comrade Gafar Oluwasegun, ASUP Chairman, conveyed his appreciation to Governor Abiodun, praising his caring attitude towards the institution's staff.
The Dean of Student Affairs, Mr Aminu said, "Kudos to our listening and people oriented Governor for this wonderful gesture. It will go a long way in cushioning the effects of the hardships brought about by the fuel subsidy removal. Like the Governor, like our own Comrade Rector".
Mrs. Kasali Bamidele, NASU Chairperson, extended heartfelt thanks to Rector Dr. Abiodun Oluseye and the institute's management team for their prompt response and support. She expressed her admiration for their dedication to the welfare of the staff.
The SSANIP Chairman, Mr. Aka Lawal Adegboyega extend his appreciation to His Excellency Prince Dapo Abiodun CON and the Governing Council of the Institute for keeping their promises in ensuring better life to all members of staff of the Institute while commending the Management team of the Institute under the leadership Dr. Abiodun Babatunde Oluseye for their administrative efficiency and development voyage in the Institute.
Additionally, this generous act of support from Governor Dapo Abiodun CON reflects a commitment to the well being of OGITECH's staff. It serves as a testament to the unity and dedication of the institution's leadership and its members, as they work together to overcome challenges and create a brighter future for all