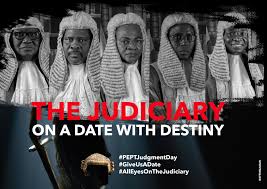 *Congratulations to the Judiciary!!!*
The intellectualism inputted to the judgement approach this time, for me, makes it the best judgement ever in the history of PEPC in our making of a Nation.
I'm not a lawyer but I remember I taught some UI law students at the time an Introduction to Computer Science, where we had the opportunity to elucidate the role of logic and its making to an incredible show in the curriculum.
The Supreme Court will not call witnesses thus the weights of probability will determine the show. I can predict the Supreme Court will have little or nothing to overturn in this PEPC judgement.
With the issue of Abuja, as I said before, the Supreme Court interpretation in 2005 between Obasanjo and Buhari departs 360 degrees from Tinubu's scenario today. It was logical to confirm that Abuja could not be afforded a special status to stop Tinubu's presidency.
It'll be consequentially illogical to lift 2005's judgment above the current reality of constitutional provision that when you are looking for 25% for a candidate to be declared president-elect, you must take Abuja as a State. Undoubtedly, Tinubu had more than enough 25% across the board without the relevance of Abuja.
With the outcome of the 25 February 2023 election, scoring 25% in Abuja remains irrelevant as far as the constitution is concerned to declare Tinubu as the President-elect. INEC is not looking for 25% from any other state to declare Tinubu as the President-elect.
Tinubu made it enough that 25% from Abuja is of no peculiar count. Friends, we are intellectual, so we should put on our logic cap at this time to help others outside there who are perhaps illiterate when it comes to applying logic to proffer solutions from the evidence presented before PEPC. What a judgment to strategically improve our Country's Jurisprudence. It took them 11 -.12 hours – Incredibly exemplary.
Congratulations to the Judiciary
!!!https://9newsng.com/asiwajus-emergence-at-the-2023-presidential-poll-fulfilled-constitutional-requirements-and-electoral-process-aggrieved-political-candidates-should-embrace-peace-by-prof-ojo-emmanuel-ademola/