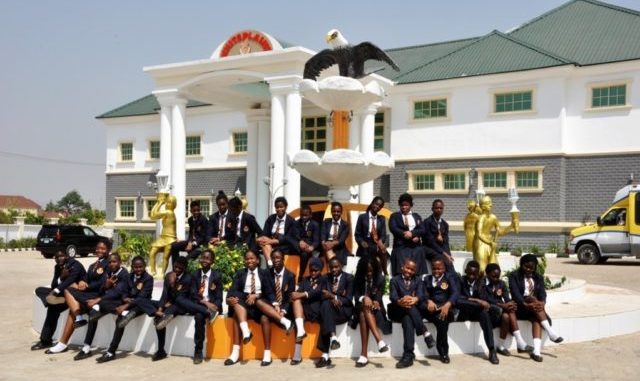 1. British International School, Victoria island
British International School Lagos www.bisnigeria.org is a British international school in Oniru Private Estate in Victoria Island, Lagos, Nigeria. Opening in 2001 the school provides a British curriculum to day and boarding students aged 11–18. A broad rang of IGCSE and A Level courses are available for study.

They charge $26,750 + ₦200,000 annually for a student. This includes boarding facilities, feeding, books, uniforms, textbooks etc. which is about ₦4,480,000 when converted to Naira.
2. Lekki British International School, Lekki Phase 1.
Lekki British School is a British international school in Lekki, Lagos State. It serves preschool, junior school, and high school in its 25 acres campus. There is a boarding facility for high school students. The school was established in September 2000

They charge $19,500 + ₦200,000 development fee. In Naira, a student pays N4,000,300 per session including feeding, school uniform, hostel, Sunday wear and textbooks.
3. GreenSprings School, Anthony
GreenSprings School is an independent, non-partisan, day and boarding school for boys and girls from 18 months to 18 years.
The School began in 1985 in the heart of Anthony Village, Lagos. GreenSprings Schools has also established another campus on the Lekki Peninsula in Lagos.

They charge a total of ₦3,185,200 annually for a boarding student and ₦1,925,200 for a day student
4. Atlantic Hall
Atlantic Hall is a private coeducational secondary school in Epe which holds about 600 students and located about 70 kilometres from Lagos in Nigeria.

They charge as much as ₦2,270,000 per student including enrolment fees.
5. Chrisland College
Chrisland College Idimu is a full boarding co-educational college, it is located on a 50-acre land in Idimu, Alimosho Local Government Area of Lagos State.

They charge as high as ₦2,000,000 annually. Fees can be paid annually or termly but on or before the first day of school. These include registration, tuition deposit, accommodation and feeding.
6. Dowen College, Lekki
Dowen College is a co-education college located in Lekki, a suburb of Lagos. The college takes both boarding and day pupils and admits them between the age of 11–18 years. In 2015, the school organised a valedictory service, where outstanding students in their academy performance were rewarded.

They charge ₦2,000,000 annually for a boarding student and ₦1,250,000 for a day student.