[9News Australia]  Prime Minister Malcolm Turnbull has formally claimed victory in the federal election, after Opposition Leader Bill Shorten conceded defeat.
Mr Shorten today said he had phoned Mr Turnbull to concede defeat as it had become clear the Coalition would be able to form government.
Mr Turnbull thanked his counterpart for conceding and paid tribute to the Australian democratic system for the manner in which the election was contested.
"We have resolved this election with fiercely fought arguments, and we've done so peacefully and constructively," Mr Turnbull said.
"It's something we should celebrate but not take for granted."
Mr Turnbull said he was with his young granddaughter when he received Mr Shorten's call.
"On a family note, when Bill called me I had my granddaughter Isla on my hip – she is a one year-old witness to history," he said.
Mr Shorten held a press conference today to concede, more than a week after Australians went to the polls.
"Whilst counting has not concluded in a number of very close seats, it is clear that Mr Turnbull and his coalition will form a government," he told reporters in Melbourne.
The Coalition has established a lead in 76 lower house seats, enough to form a majority government in its own right.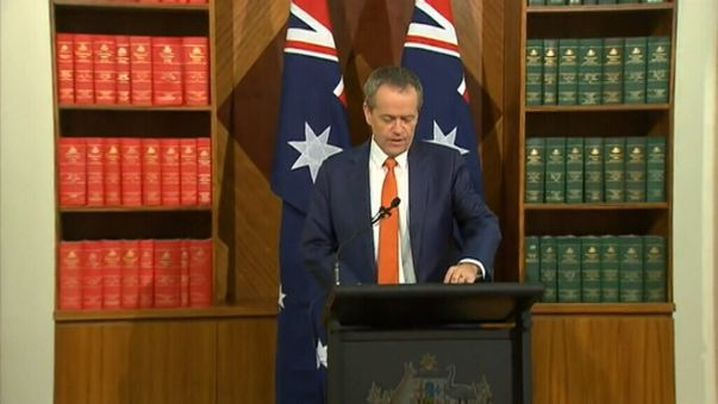 Mr Shorten vowed Labor would work constructively with Mr Turnbull and the government.
"In terms of any negativity, I've made it clear to Mr Turnbull that we will work to find common ground."
The Labor leader said the Coalition now had a mandate to pursue its policies.
"I expect them to do nothing less than keep the promises that they made to the Australian people," he said.
"I hope for our nation's sake the Coalition does a good job. I hope they run a good government."
Earlier today, Nationals leader Barnaby Joyce called on Mr Shorten to concede.
"I'm absolutely certain as part of an effective coalition we have won this election," Mr Joyce told Sky News.
He also said he expected the Nationals to hold the seats of Flynn and Capricornia, which were too close call.
A final election result appears to be still some days away.
The Australian Electoral Commission says counting in the Western Australian seat of Cowan and the South Australian seat of Hindmarsh will continue today, along with the tallying of Senate votes.
In Cowan, Labor candidate Anne Aly leads by 462 votes over sitting Liberal MP Luke Simpkins, while in Hindmarsh former Labor MP Steve Georganas leads by 247 votes over sitting Liberal Matt Williams.
This is a breaking news story. More detail will be added shortly.
You can get breaking news alerts on your phone by downloading our app, 9NEWS Alerts, available on iPhone and Android.
© AAP 2016