Tope Akinyode, a human rights lawyer, has condemned the demolition of two hotels in Rivers under the supervision of Nyesom Wike, governor of Rivers state.
According to the Rivers government, the hotels were demolished for flouting government's directive on the closure of hotels as part of efforts to limit the spread of COVID-19 in the state.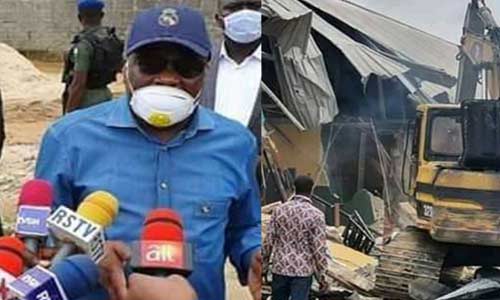 In a statement on Sunday, Akinyode faulted the governor's position, stating that it was against his constitutional powers to do so.
"The demolition of a hotel in Rivers State, Prudent Hotel, by Governor Nyesom Wike is unconstitutional, despotic, a gross abuse of power and a desecration of the Courts," he said.
"Governor Nyesom Wike is not permitted by any law to arrogate the powers of the court to himself. Furthermore, the governor is not empowered to amend the provisions of the Nigerian constitution.
"The Rivers State government under the supervision of Governor Wike acted pursuant to an Executive Order to destroy the properties today. However, it admits of no controversy that the power to determine the guilt of an offence and to issue penalty accordingly lies only within the courts. This is the whole essence of Chapter 7 of the Nigerian Constitution which provides for the judicature. It is therefore unfortunate that Governor Nyesom Wike proceeded on this exercise of illegality without caution.
"It is absolutely pathetic that under the Quarantine Act upon which the governor purportedly issued the executive order, there is no provision at all for the demolition of properties."
Akinyode quoted section 5 of the Quarantine Act which states that "Any person contravening any of the regulations made under this Act shall be liable to a fine of N200 or to imprisonment for a term of six months or to both."
He cited the case of ONAH v. FRN (2017) LPELR-43535(CA), in which he said the Court established that: "While the sentence of the Court must be in accordance with that prescribed by the statute creating the offence, a Court cannot impose a higher punishment than that prescribed for the offence".
"This has been the position of the law in other cases such as; AGBITI v. THE NIGERIAN NAVY (2007) LPELR – 4893 (CA). In ALI v. FRN (2016) LPELR – 40472 (CA)," he stated.
"It must also be emphasised that the Executive Order of Governor Nyesom Wike is nothing but a mere subsidiary legislation. Even though a subsidiary legislation has the force of law, it cannot override the provisions of its enabling law. The enabling law to Governor Nyesom Wike's Executive Order is the Quarantine Act, the Executive Order can therefore not impose a penalty outside of and higher than what the Quarantine Act prescribes."
According to him, Wike's action amounted to "wickedness", with the aim "to deprive people of their means of livelihood, launch an attack on their fundamental human rights and cause them eternal agony by hiding under the cover of curtailing the spread of disease".