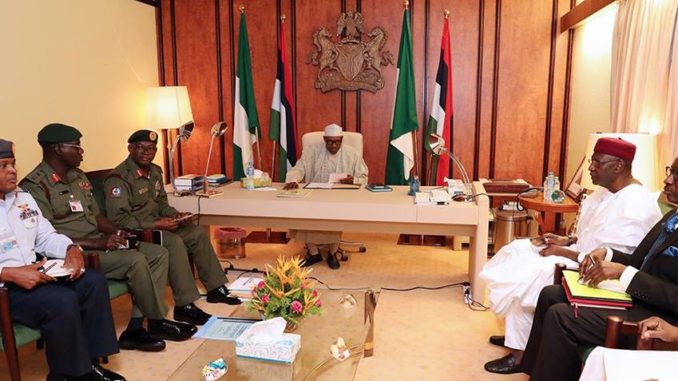 By Wisdom Nwedene
Since Buhari stormed back from London where he spent 103 days treating himself of an undisclosed ailment and disgraced himself on national broadcast on Monday morning. The entire country has been set ablaze ever since then, with most people Insulting the president of being lopsided and bias.
The Presidential Speech that Monday shocked the world which shows that President Muhammadu Buhari is not a leader but a ruler and a dictator. His speech was full of grammatical errors which left me wondering why a President of a giant of Africa should embarrassed himself on national television but that is discussion for another day.
After Buhari shocked the world with his speech on Monday which most people criticized, he went ahead and ordered the military to deal with Biafra Security Service and Boko Haram, leaving Arewa Youths as if they are Saints. Probably the sickness has affected his ears that he can't understand that the Igbos living in the North have been given quit notice and those Arewa Youths should also be dealt with, because he who comes for equity must come with clean hands. Also, the president has never for one day condemned the killings of our brothers, sisters, mothers, etc by Fulani herdsmen in the country. Mr President what is stopping you from dealing with Fulani Herdsmen equally? Oh because they are your brothers? The world is watching Mr President. Don't forget that what is good for the goose is also good for the gander Mr President.
In the North Mr President, they have sharia police, how many times have you ordered that they should be dealt with? The same way the sharia police men in the North are securing and maintaining peace and unity, is also the same way that the Igbos have decided to establish Biafra security service to protect lives and property.
What you agreed with Ojukwu in your room is not Igbo's major concern because if Ojukwu should wake up and see what the Igbos have subjected to, he will equally have no other option than to support the agitation of Biafra by the Igbos.
In conclusion, if you want to deal with the challenges facing the country Mr President, stop being bias and lopsided. The same way you want to deal with Biafra Security Service and IPOB, kindly extend it to Fulani Herdsmen, Arewa Youths, Boko Haram, Sharia police.
Thanks Mr President